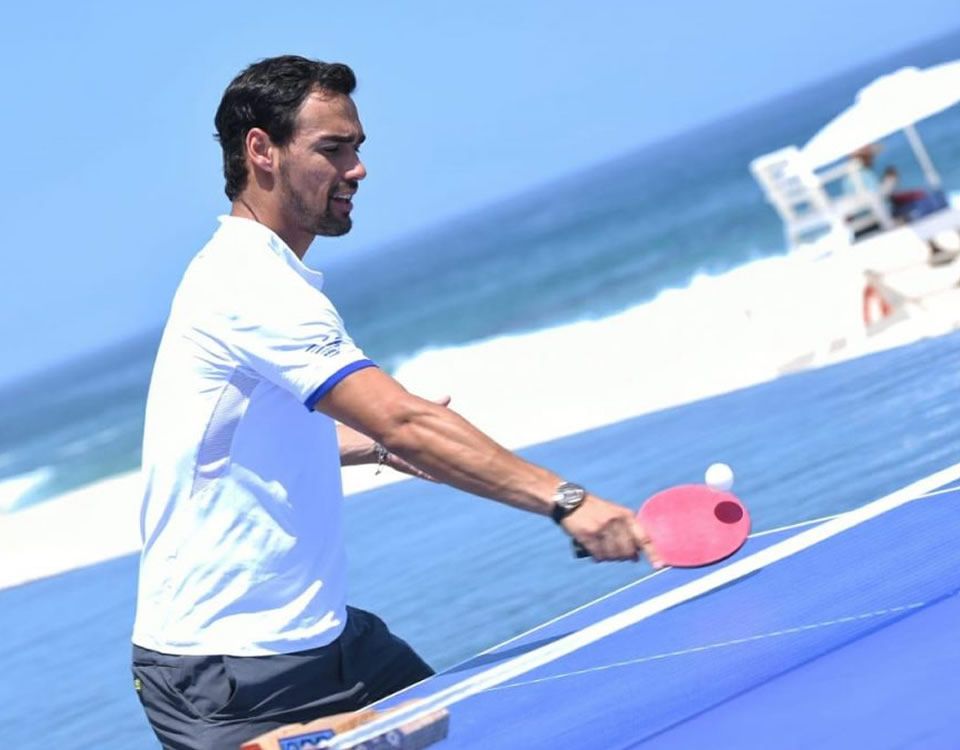 Title Defense – Fabio Fognini 
Los Cabos, BCS, July 31, 2019.- On June 10, during the weekly ranking updates by the ATP, the Italian Fabio Fognini became the oldest player to enter the Top 10 since the Australian Ken Rosewall did at 38-years-old and the Australian Rod Laver at 35-years-old.
Fognini, is now just the third Italian in the history of the country along with Adriano Panatta and Corrado Barazzutti, to be ranked in the top 10 in the world. It must be added that on April 21st, he won his first Masters 1000 title in Monte Carlo after beating Rafael Nadal in the final. Without a doubt, the Italian is one of the favorites to win the Abierto Los Cabos. At 32-years-old, Fognini acknowledges that he has achieved greatness in his career, but he still aspires for more.
"I'm fine, at my best, but I cannot say what will happen here, I want to start this American tour the best I can. The achievements are there, but they are only numbers, as I am No. 9, it is a statistic. Now that I have managed ti be top ten, I now have different objectives that I will try to fulfill. I have achieved the dream that I had since I was young."
In the current state of world rankings, there are four players in the top ten who are over 30-years-old, Roger Federer, Rafael Nadal, Novak Djokovic, and Fabio Fognini; this group has dominated for years, preventing the new generation of players to enter.
"There is a very good new generation, but in the end, the big tournaments are won by the same group of three players for a long time. The next gen has yet to make a quality leap. The average age of the top ten exceeds 30-years-old, so the length of a tennis career is longer now, which is also good. In addition, the trains help us a lot, being more concerned about preventing injuries and playing the least amount of tournaments possible – which means when you play, you have to play well."
The San Remo native, winner of nine ATP titles, all on clay except for the 2018 Los Cabos, opened up about the three greats of tennis and would aspects he would like to have of theirs.
"From Roger, I would choose to have everything, from Rafa, how he fights, how he suffers even when he is not 100%, from Djokovic, also everything, he is a very complete player, especially his backhand. They are three great players, all different, with different techniques, that play totally differently. I personally would like to see Federer play more because it is pure class."
The Italian, who is married to Flavia Penetta, two time champion of the Abierto Mexicano de Acapulco, comes from a long and exhausting tour of Europe. Which in addition to Monte Carlo, included stops in Madrid, Rome, Paris, Wimbledon, Croatia, and Hamburg. Because of this, he proclaimed what he does between continents to stay in shape.
"When I have the opportunity to relax on long trips, I sleep, anytime I can do it, I do. I also like to read but I prefer to sleep when taking a trip as long as I have and continue to do. The most important think for me is to sleep and recover the best I can. I like all different genres of music, but video games do not appeal to me," said Fognini who on Wednesday, will start his title defense against the Spaniard Marcel Granollers.
"For now, I am only focused on the first match. It will be tough, I will have to run a lot; then I will have another opportunity to sit here and talk about the quarter-finals, so I have to go one step at a time," said the Italian.
He also elaborated on his love for football, he is a big fan of Inter Milan. "I love football, definitely. If I had to choose another profession other than tennis, I would certainly have liked to be a football player."
Fognini confirmed that he will be playing on the European Laver Cup team in September with Roger Federer, Rafael Nadal, Dominic Thiem, and Alexander Zverev.