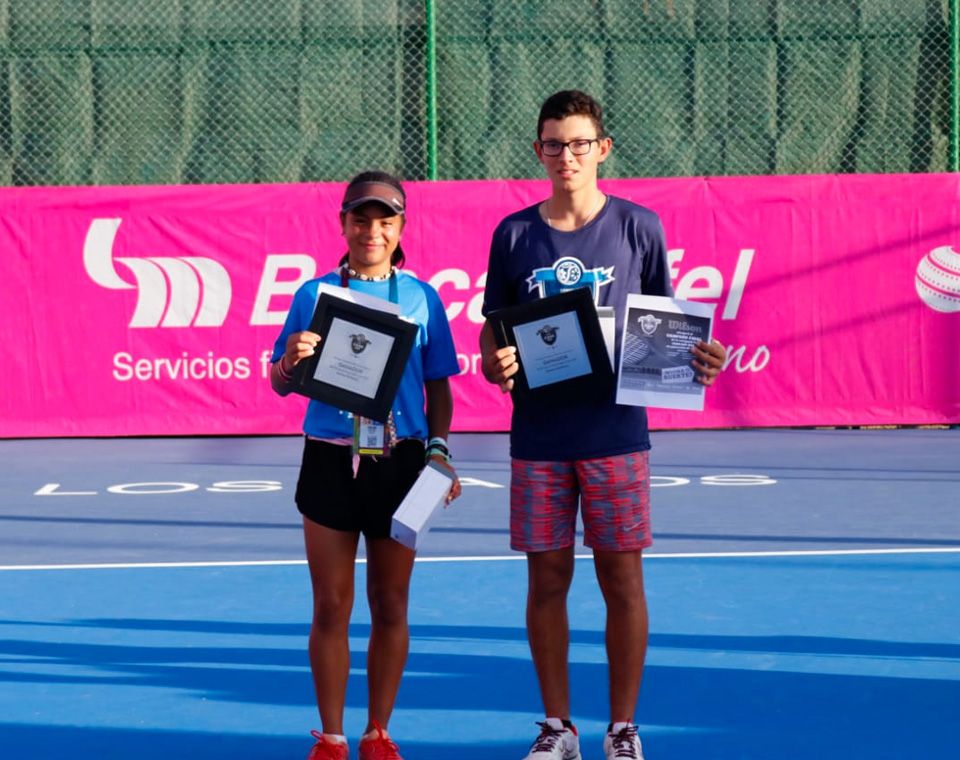 Alexander Penagos and Paulina Villegas: Cabo Cup Champions
Los Cabos, BCS., August 3, 2019.- Alexander Penagos Muñoz of Chiapas, conquered the boy's final of the Cabo Cup this hot, Saturday afternoon on Grandstand Caliente after beating Diego Tarazona of Baja California Sur in the final. Alexander, 14-years-old and a Junior in high school, won the match 6-2 7-5.
"I feel very happy to have won this tournament, I had never played on a professional court before and so I feel very happy about it. I won the Cabo Cup in Mexico City where I have been training for a while – then, they paid everything for me to come here to play. The final was very difficult but I achieved the victory," said the 2019 Cabo Cup Champion. Penagos thanked his parents for their support, along with his brother, physical trainer Eloy Avelino and his psychologist Magali Palacios.
 "My dream ever since I was a little kid is to become a professional and reach number one. My idol is Roger Federer because I like how he plays, how he carries himself on the court and his style of play."
His parents, Alfredo Penagos and Martha Muñoz have always given him all the support to focus on both his studies and the sport. He said that one of his goals is to finish his academics – he is undecided on which field he would like to enter whether it be in pediatrics, physiotherapist, or something in sports.
The girl's Cabo Cup was won by Paulina Villegas Robles of León, Guanajuato. She defeated April Cárdenas of Guadalajara 6-0 6-0 on Court 1.
"It was an amazing experience. I love to play tennis and apart from that, I had a lot of fun. I got to meet a professional player, I have never been to a tournament like this, so I am happy."
 "In León, I signed up for the tournament because of my coach Juan Ponsce and I won it – that is why I had the opportunity to come here," said Paulina, a high school student. Paulina went on to explain that if she cannot play professional tennis, she would like to be a chef, she loves to cook. Additionally, her favorite players are the Romanian Simona Halep and Argentina's Juan Martín del Potro. 
Paulina Villegas's family includes her father Manuel, her mother Berenice, her sister who plays college tennis and her brother who plays soccer in Spain.