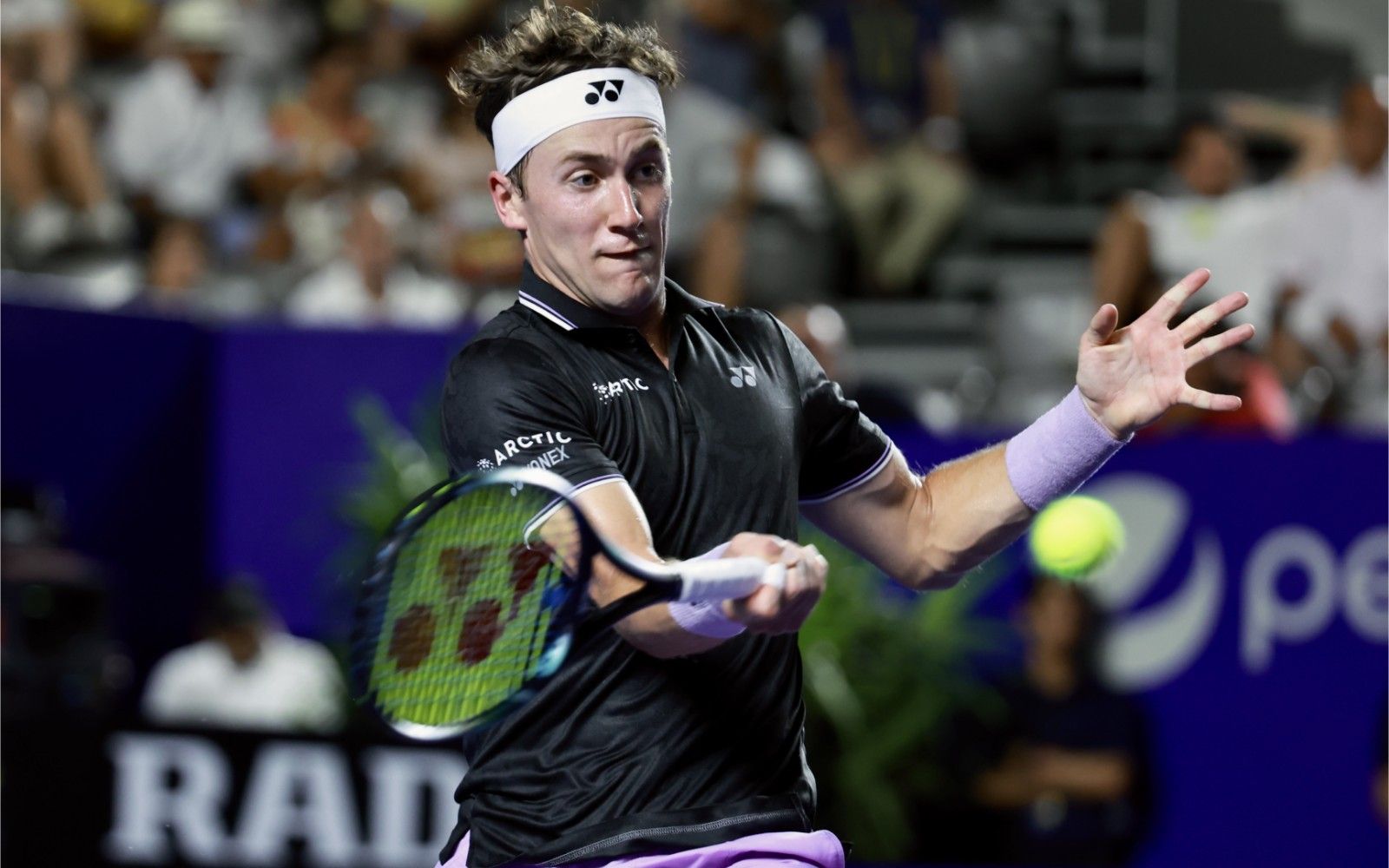 The Norwegian tennis player shared his 'Spotify Wrapped' confirming his taste for the music of Canadian singer 'The Weeknd'.
The tournaments in the American continent are going well for the Oslo-born player and he will be looking for a new title in the ATP circuit in Los Cabos.
Mexico City, December 1, 2023.- Casper Ruud's passion for sports – not only tennis, but also golf – is complemented by his extreme taste for music, especially the music of Canadian singer and producer Abel Makkonen Tesfaye, better known as 'The Weeknd'.
Each year, the Spotify platform shares a summary (Spotify Wrapped) of what
each user listens to most frequently over the past twelve months. In this 2023, what the Norwegian tennis player listened to the most was precisely The Weeknd.
On several occasions, the Oslo-born tennis player and winner of 10 titles in the ATP circuit, has shared his taste for music and has uploaded different videos to his social networks enjoying the concerts of the Canadian artist. Let's hope that at the Mifel Tennis Open by Telcel Oppo 2024 we can witness a spectacular weekend with the best of his repertoire on the court of the Cabo Sports Complex. 
Casper Ruud's love for sports is not limited to tennis, a passion he inherited from his father and coach, Christian Ruud, who until before his son appeared
on the ATP circuit, was considered the best Norwegian tennis player in history.
When Christian Ruud retired, he started going to the golf courses and it was in those recreational times that Casper also took a liking to this sport to the extent that at the age of 14 he had to decide whether he would continue his sports career with a racket or with a golf club, we all know how this story ended.
Casper Ruud's career has been meteoric since that August 2015 when he started scoring in the ATP ranking in the 1645th place, until his best position in his career, climbing up to the number 2 ATP ranking in December 2022.
The tournaments in the American continent are given to the Norwegian tennis player, since the first title in his
career he won in Buenos Aires (2020) and he did it again in 2022, he also won in San Diego, California in 2021 and hopefully in 2024 he will be among the contenders for the title of the Mifel Tennis Open by Telcel Oppo 2024. 
Technical data
Name: Casper Rudd
Age: 24 years old
Date and place of birth: December 22, 1998 in Oslo, Norway
Current ATP ranking: 11th (as of November 27, 2023)
Best ATP ranking: 2nd (as of December 9, 2022)
Coaches: Christian Rudd and Pedro Clar 
ATP titles: 10 championships 
Buenos Aires (2020)
Geneva (2021)
Bastad (2021)
Gstaad (2021)
Kitzbuhel (2021)
San Diego (2021)
Buenos Aires (2022)
Geneva (2022)
Gstaad (2022)
Estoril (2023)